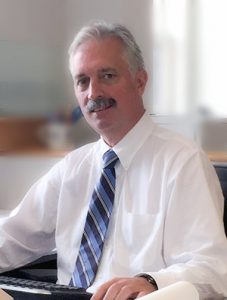 Barry Buchinski, president of Blackstone Block Architects, Inc., has worked for over 38 years in architecture, planning, adaptive reuse and historic preservation. His experience in planning, design and construction technology is an invaluable asset to the firm.
Barry has recently concentrated on the design of complex building types ranging from the new Area D4 Police Station for the Boston Police Department to the preservation and renovation of numerous historic landmarks in Boston, Greenfield, Lowell and Turners Falls. He is currently the Principal-in-charge for five new HUD 811 Special Needs Housing projects located in Massachusetts as well as the renovation and addition to the historic building located at 120 Blackstone Street in Boston.
With a strong commitment to public service, Barry has been actively involved with local building committees and in community affairs, as well as being instrumental in the success of several planning proposals in his local home town. Barry's recognized role as an advisor to the community further enhances BSBA's strengths as a design firm committed to understanding client needs and providing the highest level of professional service.
Professional Experience
Coop Apartments
Pittsfield, MA
New Special Needs Housing (HUD)
Boston Public Schools
Boston, MA
Renovations to the Boston Arts Academy
Harvard Law School
Cambridge, MA
Renovations to the Gropius dormitories; Story, Shaw, Holmes, Ames, and Dane Halls
Simmons College
Boston, MA
New laboratories and offices; Park Science Center building; Main Academic Building
Harvard University
Cambridge, MA
Freshman Dormitory access plan; Massachusetts Hall and Straus Hall renovation
Boston Police Department
Boston, MA
New Area D4 Police Station
Wheelock College
Boston, MA
ADA implementation plan
Brandeis University
Waltham, MA
Rose Art Museum access improvements
Regional Hsg. & Redevel. Authority
Franklin County
Gill 667-5 — elderly housing
Gill, MA
Simmons College
Boston, MA
Dormitory renovations; Dix, South, North, and Simmons Halls
Harvard University
Washington, DC
Dumbarton Oaks access survey
Sears Crescent Building
Boston, MA
Renovation to a 19th century structure
Canal Place Condominiums
Lowell, MA
Renovations of six historic mill buildings
Boston Police Department
Roxbury, MA
Police Station for Special Operations Unit
Waltham Police Department
Waltham, MA
Waltham Police Station renovation
Gardner Housing Authority
Gardner, MA
Elderly, family, and special needs housing
Wheelock College
Boston, MA
Peabody Hall dormitory renovation
Waltham Housing Authority
Waltham, MA
Waltham 705-2 family housing
City of Boston, MA
Parkman House renovation
Professional activities
Build Boston Convention Speaker
Bolton School Building Committee Member
Bolton Planning Board Member
Town Hall/Police Station Building Committee Member
Town Center Advisory Committee Member
Boston Society of Architects Program Committee Member
Professional Affiliations
• American Institute of Architects
• Massachusetts Society of Architects
• Boston Society of Architects
• National Trust for Historic Preservation
Registration
• National Council of Architectural Registration Boards, certificate #26690
• Massachusetts #5254
• Connecticut #6005
• New Hampshire #1431
• Maine #2811
• New York #27503
• Pennsylvania #RA016976
• Rhode Island #3021
Education
Kansas State University, College of Architecture and Design
Bachelor of Architecture, 1979
Harvard Graduate School of Design, 2003
Continuing education
• Boston Society of Architects
• Massachusetts State Building Code Seminars — 6th Edition
• Massachusetts New Energy Code
• AIA Professional Development Program
• Integration of Construction Documentation
• Office for Professional Liability Research, Inc.
• Schinnerer Management Services, Inc.
• Construction Claims Seminar
• American Institute of Architects & NSPE
• Professional Liability Loss Prevention